The iPad is a line of tablet computers designed and marketed by Apple Inc., primarily as a platform for audio-visual media including books, periodicals, movies, music, games, apps and web content. Its size and weight fall between those of contemporary smartphones and laptop computers. The iPad runs on iOS, the same operating system used on Apple's iPod Touch and iPhone, and can run its own applications as well as iPhone applications. Without modification, the iPad will only run programs approved by Apple and distributed via the Apple App Store (with the exception of programs that run inside the iPad's web browser).
Like iPhone and iPod Touch, the iPad is controlled by a multitouch display—a departure from most previous tablet computers, which used a pressure-triggered stylus—as well as a virtual onscreen keyboard in lieu of a physical keyboard.
iPad is sold in Wi-Fi and cellular models. The Wi-Fi connection is used to access local area networks and the Internet. Cellular models have a 3G orLTE wireless network interface which can connect to HSPA or EV-DO data networks in addition to Wi-Fi. Since the release of iOS 5, the device does not need to be managed and synced by iTunes running on a personal computer via USB cable.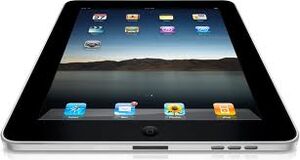 Ad blocker interference detected!
Wikia is a free-to-use site that makes money from advertising. We have a modified experience for viewers using ad blockers

Wikia is not accessible if you've made further modifications. Remove the custom ad blocker rule(s) and the page will load as expected.