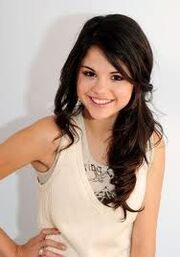 Gomez was born in Grand Prairie, Texas. She is the daughter of former stage actress Amanda Dawn "Mandy" Teefey (née Cornett) and Ricardo Joel Gomez. Her father is of Mexican ancestry, and her mother is of part Italian descent. Regarding her Hispanic heritage, Gomez said: "My family does have Quinceañeras, and we go to the communion church. We do everything that's Catholic, but we don't really have anything traditional except [that we] go to the park and have barbecues on Sundays after church." Her birth parents divorced when she was five years old, and she was raised as an only child by her working mother. In 2006, Mandy remarried Brian Teefey. She was named after Tejano singer Selena, who died almost three years after Gomez was born. In a 2009 interview with People, Gomez mentioned that she developed an early interest in acting from watching her mother prepare for and act in theater productions. She earned a high school diploma through homeschooling in May 2010.
On February 27, 2011, Gomez attended the 2011 Vanity Fair Oscar Party with Canadian singer Justin Bieber, confirming several months of media speculation about a romantic relationship between the pair. The relationship has since continued to garner significant media attention.

Gomez began her acting career at age seven, playing Gianna on Barney & Friends. She later had minor roles in Spy Kids 3-D: Game Over and the TV film Walker, Texas Ranger: Trial By Fire. Gomez also starred in the television movie Brain Zapped. (Selena Gomez also found out that she wanted to be an actress because in E Special she states that "I would also watch my mom on stage do her lines".)
In 2004, Gomez was discovered by the Disney Channel in a USA-wide scouting. Gomez appeared as a guest star on The Suite Life of Zack & Cody and had a guest appearance – that later turned into a recurring role – on Hannah Montana from seasons two to three. Gomez previously taped two different pilots that were spin-offs to two previous Disney series. The first one, What's Stevie Thinking?, was the spin-off to Lizzie McGuire. Gomez played Stevie Sanchez, Miranda Sanchez's little sister. The other show was titled Arwin!, the spin-off to The Suite Life of Zack & Cody, in which she played Alexa. Neither series was picked up.
Ad blocker interference detected!
Wikia is a free-to-use site that makes money from advertising. We have a modified experience for viewers using ad blockers

Wikia is not accessible if you've made further modifications. Remove the custom ad blocker rule(s) and the page will load as expected.