'The fashion industry consists of four levels: the production of raw materials, principally fibres and textiles but also leather and fur; the production of fashion goods by designers, manufacturers, contractors, and others; retail sales; and various forms of advertising and promotion. These levels consist of many separate but interdependent 'sectors, all of which are devoted to the goal of satisfying consumer demand for apparel under conditions that enable participants in the industry to operate at a profit.
Fashion is a general term for a popular style or practice, especially in clothing, foot wear, or accessories. "Fashion" refers to current trends in look and dress up of a person, as well as to prevailing styles in behavior.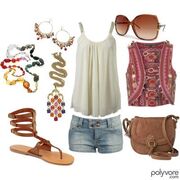 The more technical term, "costume," has become so linked in the public eye with the term "fashion" that the more general term "costume" has in popular use mostly been relegated to special senses like fancy dress or masquerade wear, while the term "fashion" means clothing generally, and the study of it. For a broad cross-cultural look at clothing and its place in society, refer to the entries for clothing,costume, and fabrics. The remainder of this article deals with clothing fashions in the Western world.
Ad blocker interference detected!
Wikia is a free-to-use site that makes money from advertising. We have a modified experience for viewers using ad blockers

Wikia is not accessible if you've made further modifications. Remove the custom ad blocker rule(s) and the page will load as expected.