its not only that the model gone wild last night but lola for thinking that she has a shot to be another i.t girl. serena is the only hot girl to be the i.t model girl and lola needs to back of and find another fashion, otherwise she will be the gossip of the day.but wait i'm confused is lola now herself or its that girl Iv who fools people??? sounds like its the real lola to me, fool and thinks she has a chance! poor family has to fight between themselves.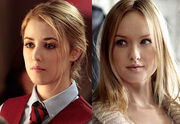 you know you cannot wait for the next GOSSIP.
                                                                                                                                  xo xo gossip girl
Ad blocker interference detected!
Wikia is a free-to-use site that makes money from advertising. We have a modified experience for viewers using ad blockers

Wikia is not accessible if you've made further modifications. Remove the custom ad blocker rule(s) and the page will load as expected.