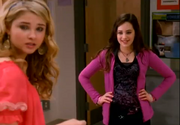 Sulianne
(
S
/avannah and J/
ulianne
) is the enemy pairing of Savannah O'Neil and Julianne. They are enemies because Savannah tries to get rid of Julianne, for Jake's sake. Murray also helps along the movie.
Sulianne Moments
Edit
Savannah follows Julianne.
Savannah tries to get Jake to not be friends, and stop being his science partner for Jake's sake of being heart-broken.