Halle Brandon

Information
Full Name

Halle Brandon

Gender

Female

Resides in

New York City

Occupation

Student, GeeklyChic Writer

Eye Color

Brown

Hair Color

Brown

Family

Kendall Brandon (brother)

Friends

Avalon Greene (best friend)

School
Affiliations
Production
Portrayed By
Halle Brandon is more of a geek than a chic. She is not very good with fashion, and is much better with words. She runs a fashion webzine, GeeklyChic, with her best friend Avalon Greene, and they both share a passion for fashion. She is the genius behind the articles posted in GeeklyChic. She is very shy, and gets extremely nervous when she talks to people who she is not familliar with, unlike Avalon who is very sociable. She is portrayed by Zendaya Coleman.
Personality
Halle is smart, stylish, and a very talented writer. She turns fashion tips from her best friend Avalon into brilliant fashion articles for their web magazine: GeeklyChic. She feels like her wildest dreams are coming true when a New York City publishing company offers to buy GeeklyChic, until she finds herself fighting with Avalon for the editor position.
Relationships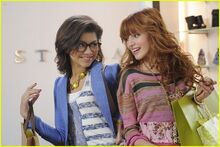 Avalon and Halle are best friends. They both love fashion. They also became enemies for a while but went back to being friends again.
Kendall is Halle's brother. Halle can be annoyed by Kendall at times, but they love each other alot.
Walker and Halle don't talk much in the movie, but they seem to know each other.
 Appearance
Hair:  Halle is always seen wearing her hair down and in a light curl. She has black wavy hair that comes down to her shoulders. She has bangs which she pushes to the side.
Wardrobe: Due to Halle being more of a geek then a fashionista her clothing style tends to be a bit awkward. Her style consists of very traditional clothing. She usually is seen wearing darker colors and on occassion wears a skirt. Avalon is constantly trying to get her to wear to the best of her potential.
Gallery
To view her gallery, click here.