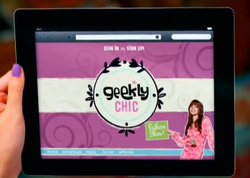 GeeklyChic
is a webazine managed by
Avalon Greene
and
Halle Brandon
. When a New York City publishing company asks them to buy their webazine but she wants only one
of them as editor which causes commotion in their friendship.
History
It is run by Avalon Green and Halley Brandon. An NYC publishing company gets interested and tries to buy GeeklyChic. Halley is the editor in chief and Avalon is the co-editor in chief.
GeeklyChic features
A map, that shows red dots on locations that members online are in.
They have photos of students and of them on the blog.
This is not a real website. If you type in GeeklyChic.com on your browser, it will direct you to the official Frenemies website.