Emma Reynolds

Information
Full Name

Emma Cristine Reynolds

Nickname(s)

Savannah (pretends to be her)

Gender

Female

Date of Birth

c. 1997 (age 16)

Resides in

Great Britain

Occupation

Student

Eye Color

Blue

Hair Color

Brown

Family

Mr. Reynolds (father)
Mrs. Reynolds (mother)
Pet dog

Romances

Lance (ex-boyfriend)

Friends

Savannah O'Neal, Lance (formerly), Jake Logan

School

Boarding school

Affiliations

Reynolds' Family

Production
Portrayed By
Emma Cristine Reynolds
is very wealthy and is classified as uptown. She meets a tomboy named
Savannah
, who comes from a large high-energy family and looks like her twin. They become fast friends and decide to trade places for a while, but they realize that life on the other side isn't all that it's cracked up to be.
She talks in a British accent and has no idea how hard things are for Savannah at home until she actually goes there. She has a boyfriend named Lance. Both Emma and Savannah are portrayed by Mary Mouser.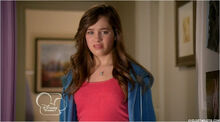 Emma is from an extremely wealthy family. Though she is privileged, she feels smothered by her overbearing parents. She loves dogs. She meets Savannah and ends up trading places after a squabble about who's life is better. She has a puppy, that her butler, Pemberly bought her on her birthday ball. She is not allowed to eat fast food when her parents are around. She has a trustable butler named Pemberly.
Memorable Quotes
Edit
Savannah [to Emma]: If I had a day of your life, I'd be the happiest girl in the world.
Emma [to Savannah]:

If I had a day of your life, I'd be the happiest girl in the world.
Her family's tag number for their limo is 553.
It is known she does ballet lessons straight after fencing lessons.
She had known Lance since the third grade.
She doesn't know how to skateboard.
She and Savannah both take a long time to get food, which is hard since Savannah's brothers seem impatient and always manage to get the good food first.